Products and Services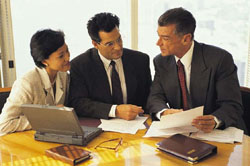 We understand that most people's lives don't conform to the latest stock tip, the newest life insurance policy or proprietary product offering. We evaluate each client's circumstances first, and then create scenarioos to match their specific goals and risk tolerances. Your financial health is personal, so you plan should be too.
Packaged Product Offerings
Non-proprietary product selections from over 140 mutual fund companies.

Over "20" 529 agreements.

Fixed income security offerings.

Variable annuity product agreements from more than 65 insurance carriers.

Variable life products through agreements with 20 top insurance carriers.
Advisory and Fee-Based Programs
Nine Points Advisory Services Platform.

Access to institutional portfolio managers.

Financial planning services.

Wealth management and consulting services.
Brokerage Services
American Portfolios provides full-service securities brokerage through its clearing relationship with Pershing, LLC. With more than 70 years of experience dedicated to serving financial services firms, over $750 billion of assets held in custody, a host of innovative products and services, and the economies of scale to provide competitive trade execution, Pershing is a formidable partner in the growth and success of American Portfolios and its affiliated financial professionals.
Insurance Planning
Traditional, Universal, and Term Insurance programs.

Fixed annuities.

Long-term Health Care programs.

Disability income.
Personal Services
For retirement, estate, and college planning:
Traditional and Roth IRA's
SEP and Simple IRA plans
401(k), pension and profit sharing plans
403(b) tax-deferred investment plans
Minimum retirement distribution strategies
Estate transfer vehicles and trusts
Custodial accounts (UGMA's / UTMA's)
529 college savings plans